Many small nameless tributaries come together in the Northwestern Watershed to form Accotink Creek. We have photos and descriptions for two of these branches. More need to be documented.
---
Northwestern Main Stem area:
21 April, 2016: Walked upstream from the Pickett Road bridge, following the main stem of Accotink Creek through Fairfax City to its last upstream open water, a culvert under Hallman Street, near the intersection of Rt. 50 and Rt. 236.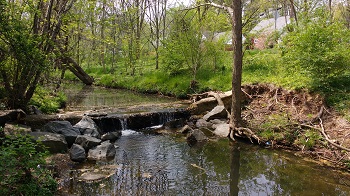 Accotink Creek flows through narrow corridors in Fairfax City, with roads, houses, and buildings seldom out of sight, depriving the creek of adequate vegetated buffers. Many sections are quite straight, evidence of past channelization for the convenience of humans. Clearly, many areas were cleared right to the banks in the past. There have been numerous projects here over recent years to attempt to stabilize the creek and improve its biological health. The signs are everywhere - large blocks of granite placed to hold banks or direct flow, and an unnaturally common prevalence of planted native streamside species River birch and Black willow.
Alien invasive plants are especially common in the northwestern watershed due to past clearing. Invasive species are early colonizers of disturbed areas. As is common in most streams in our area, excess erosion caused by stormwater runoff from paved services is everywhere, as testified by the steeply incised banks.
Most of the property along this portion of Accotink Creek is owned by the City of Fairfax, mostly as parks. Some portions are privately owned, variously as backyards of homes, civic association property, or parts of commercial parcels. One of those parcels is the Army-Navy Country Club, where the Daniels Run tributary enters from the south. The stream bed and banks are littered with stray golf balls there.
An especially forlorn section between Main Street and Meadow Bridge Lane is also in private parcels. Here structures intrude on the stream banks, trash is unusually abundant, and the neighbors clearly hold the creek in lowest regard.
Obstacles to fish movement are abundant, principally in the form of old utility pipes crossing the streambed. These are presumably sewer pipes or water mains that are likely no longer in service. Originally these would have been buried, but have been left exposed by the excess erosion plaguing our urban streams. Still, small fish are relatively common along the main stem here, and occasional larger ones can be spotted as well, so they seem to manage to adapt.
The Friends of Accotink Creek have three Adopt-A-Stream cleanup sites here, where Accotink Creek crosses Old Lee Hwy, Fairfax Blvd, and Chain Bridge Road.
April 2016 Photos at Shutterfly.com
---
Dale Lestina Park area:
12 & 13 April 2012: Walked upstream from the mouth of unnamed tributary running through Dale Lestina Park in Fairfax City north to its uppermost outlet.
This small tributary pours out of a culvert under Ranger Road directly into Accotink Creek in Ranger Road Park next to the Cambridge Station community in Fairfax City.
Developments along this tributary were built in in the decades before Resource Protection Area (RPA) requirements were in place, mandating set-backs and vegetated buffers along streams. Homes are thus too close to the stream in many spots, depriving it of the natural wooded buffer that offers so many benefits: shade, slowed runoff, increased infiltration into groundwater, absorption of pollutants, sources of organic nourishment for aquatic life.
Upstream from the Cambridge Station community, the stream flows across the southwest corner of Villa d'Este Park in Fairfax County. Above that, as far upstream as Plantation Parkway, the stream flows through Fairfax City's Dale Lestina Park.
Restoration projects are visible along all of the Fairfax City portion of the stream. Techniques used include bank reshaping and reinforcement and the use of numerous stone weirs to direct the current away from the banks and also push floodwaters up onto the flood plain to disperse energy that would otherwise scour away the stream banks.
Few fish were spotted below Plantation Parkway, but fish are common between Plantation Parkway and I-66. No fish were spotted upstream from Bushman Drive.
Upstream from I-66 the course of the stream is in Fairfax County. The stream flows underground in storm drains between Bushman Drive and Jermantown Road.
There are depressing amounts of invasive alien plant species along most of the stream. There is little trash, however, except in the stormwater pond just above I-66.
A stormwater pond above Blake Lane appears to be the last upstream source for this tributary.
Nearby, an even smaller unnamed tributary was the object of a recent Fairfax County stormwater pond project, part of the county's Accotink Creek Watershed Plan , a 25-year to-do list of enhancements to the water quality of Accotink Creek.


April 2012 Photos at shutterfly.com
---
Do you live near or sometimes visit the Northwestern Watershed of Accotink Creek?

Let others know what you have seen!

Share your own observations/comments on this or other sections of the Accotink Creek watershed.