ALL EYES ON I-66! - UPHOLD ENVIRONMENTAL STANDARDS!
---
Another big project brings big changes to the Accotink Creek watershed, none of them likely to be good. The I-66 Outside the Beltway project crosses 5.1 miles of the Accotink Creek watershed, passing over the tributaries of Long Branch (north), Bear Branch, Hatmark Branch, Hunters Branch, and the headwaters of the northwestern watershed.
---
Construction activity began in late 2017 and accelerated in summer 2018. Although we were unable to hold the asphalt at bay or even to have current stormwater controls applied to this project, let's all keep our eyes on it and hold VDOT and contractors to standards the citizens and environment of Virginia are entitled to expect.

Read about our coalition efforts to modify and redirect the project HERE
---
Scroll down to observations from the field along I-66.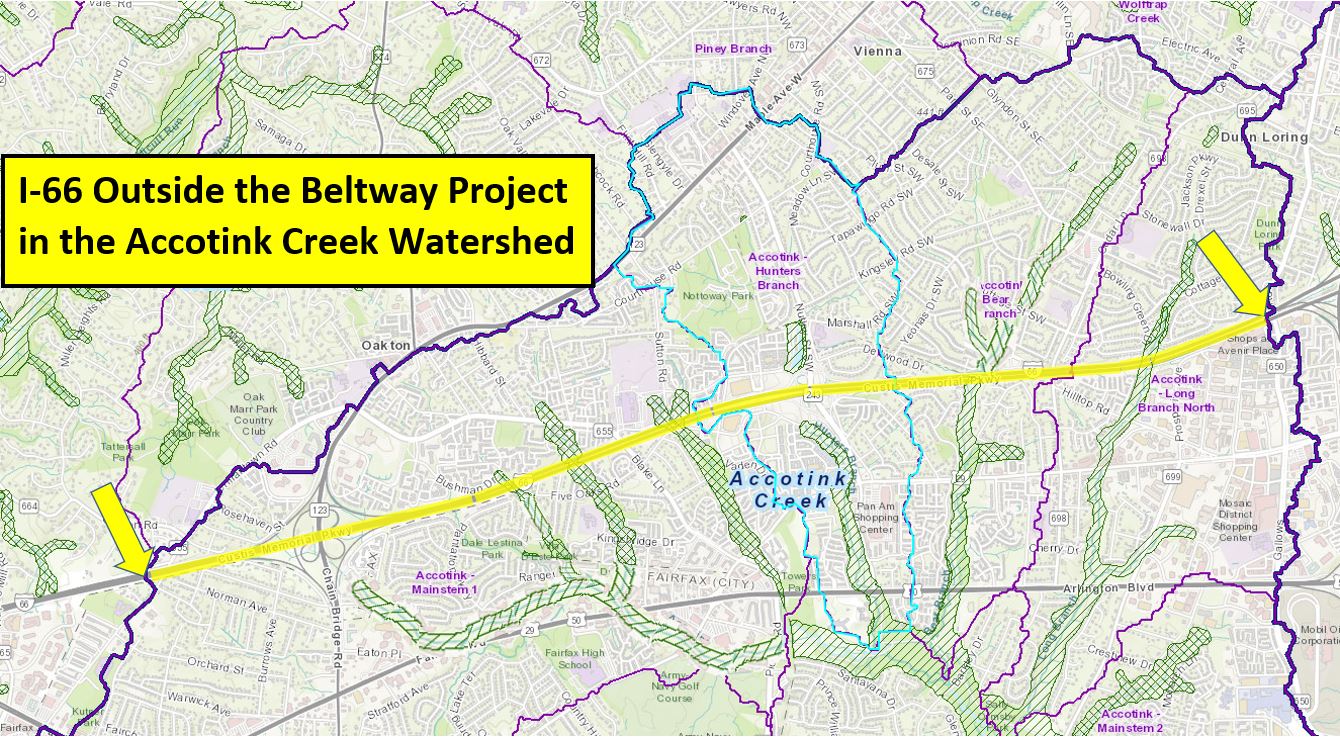 From Jermantown Road to Gallows Road, the project is in the Accotink Creek Watershed
---
SEE ENVIRONMENTAL VIOLATIONS ON I-66?
Contact Virginia Department of Environmental Quality, 703-583-3800 or 24-hour hotline: 800-468-8892 or ONLINE REPORT FORM. Call DEQ when you observe sediment flowing into storm drains/streams, failing sediment control devices, or inadequate sediment control measures.
More information from DEQ HERE
You may also advise VDOT of violations at Transform66@VDOT.Virginia.gov , or to your Fairfax County supervisor , or your state legislator
---
Years after completion of the 495 Express Lanes, we are strugglinng to correct erosion control and replanting shortcomings that did not meet minimum standards. We fully expect to face the same situation with the I-66 Express Lanes.
Read the ongoing sad story of the 495 Express Lanes years after construction - habitat loss, erosion & sedimentation, indifference, and replanting failures.
Find project information from VDOT at http://outside.transform66.org
The consortium I-66 Express Mobility Partners, owned by Cintra (Spain) and Meridiam Infrastructure (France), has the 50-year concession to build and and operate the project. The construction contractor will be FAM Construction, owned by Ferrovial Agroman (Spain - parent company of Cintra) and Allan Myers (Pennsylvania).
---
OBSERVATIONS FROM THE FIELD:
---
July 23, 24, & 27, 2018 - Field Survey: Conducted field surveys of several points that afford public access for observations of I-66.

Tree clearing is well underway at the Jermantown Road overpass and western end of I-66 in the Accotink Creek watershed. Farther east, less clearing is visible. Although there were heavy rains the previous few days, no egregious sediment and control failures were evident, although there were some problems at the Saintsbury Drive location.

One discovery was a small wetland adjacent to Willow Cresent Drive. Although it is untouched so far, it has no protective signage. We may hope it has been recognized and will be avoided.

Links to photos of access points observed:
---
June & July, 2018:
Surveyed the tributaries that cross I-66 in anticipation of the I-66
widening. The tree clearing has begun in earnest. A copy of
Encyclopedia Paranoiaca found along a tributary seems an ill
portent for the future of these unfortunate tributaries.

The survey results are posted online (Items 1, 3, 4, 5, & 24 HERE).





---
Date: April 3, 2015,
Survey Photos
Members of Friends of Accotink Creek made a quick survey of wooded habitat along the I-66 right-of-way likely to be reduced or lost in any widening. As might be expected, the quality of habitat was largely disappointing, with large numbers of invasive alien plants occupying only a narrow wooded buffer. Larger patches of better quality habitat are in the cloverleafs at Nutley street and Chain Bridge Road, in Southside Park in Vienna, and in the common property of the Four Winds community in Oakton. Degraded as it may be, even such small habitat areas have value that should be preserved.
Also found during the survey was evidence of erosion and sediment control failures that we may expect on a large scale from any project that goes forward along I-66. Friends of Accotink Creek documented many such failures during construction of the 495 Express Lanes. This time what we found was small, but flagrant - bare slopes left to erode, silt fences collapsed, and quantities of sediment in waterways. Our Reports to VDOT and DEQ seem to have gone the way such reports are usually handled. Typically in these cases, if any action is taken, the responsible party is merely told to begin doing what they should have done all along - no fine is levied and no remediation of damage is required.
---