Blake Lane Park has an active Invasive Management Area site, protecting native habitats
---
What is the future of Blake Lane Park?
---
Blake Lane Park, 10 acres in size, is in Oakton at the northern extent of the Accotink Creek watershed. The park is about half wooded and half open playing fields. The property was aquired decades ago for a school that was never built. The Park Authority was put in charge of managing the property, but ownership was never transfered. The official name of the park "Blake Lane School Site" perhaps foretold its future.

In late 2018, the announcement came that the school envisioned long ago was now needed and the park was to be no more. Neighbors who make use of the park are understandably reluctant to give it up and any loss of natural habitat is something to be avoided.

How unfortunate it is that two worthy needs, parks and schools, should be in opposition this way. The neighbors have formed Save Blake Lane Park and are seeking signatures on their petition to preserve the park.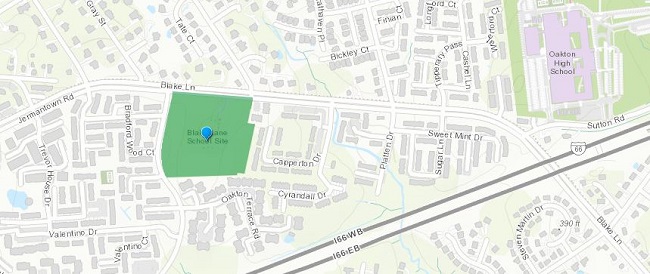 Blake Lane Park is near Oakton High School
---