Saturdays
April & May, 2021
Join the campaign to get the trash out of
Accotink Creek!
March 6th, 2021
9:30am - 11:30am
Volunteers assess ecological conditions in streams, based on the abundance of invertebrates.

Third Tuesdays
Shape the Future of Friends of Accotink Creek. Join our monthly planning meetings!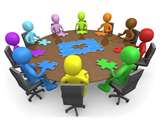 Most weeks, dates vary
Join us in defending our parks from exotic green invaders.
"The best time to plant a tree is twenty years ago. The second best time is now."